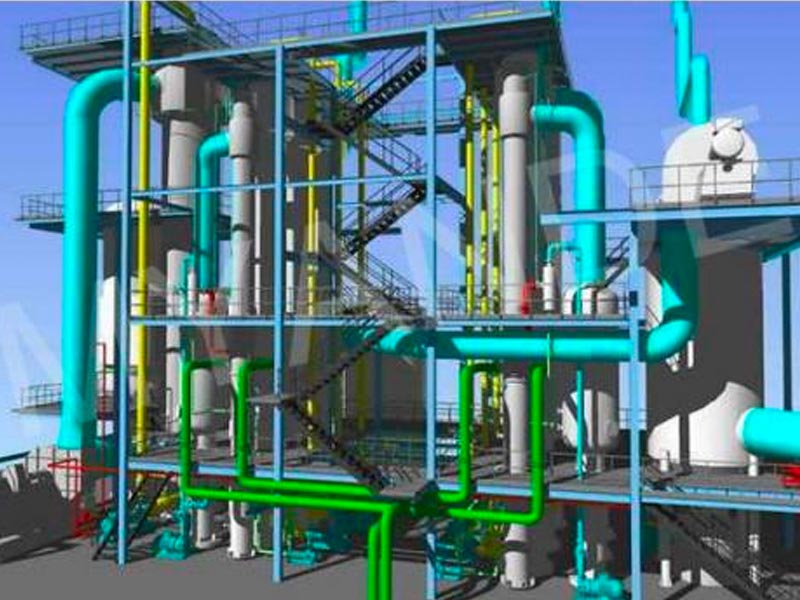 I. Overview:
Scraper type thin film evaporator is a high-efficiency evaporation and distillation equipment that uses high rotation to distribute liquid into a uniform film for evaporation or distillation. Western pharmaceutical, food, light industry, petroleum, chemical, environmental protection and other industries.
Scope of application:
Suitable for high concentration, high viscosity, heat sensitivity, easy to scale and other characteristic materials, such as: honey, fructose, gravy, pigments, flavors and fragrances, enzyme preparations, lactic acid, silicone polymers, antibiotics, syrups and other liquid materials.
Third, equipment characteristics:
This equipment adopts a centrifugal sliding groove rotor, which is the latest structured evaporator in foreign countries. It can also form a thin film when the flow is small. The deposits on the inner wall surface of the evaporation section of the cylinder can be quickly removed by a movable scraper. Removed, it has the following properties and characteristics:
1. High heat transfer coefficient, large evaporation capacity, strength of the evaporator can reach 200kg / m2hr, and high thermal efficiency.
2. The material heating time is short, between about 5 seconds and 10 seconds, and working under vacuum conditions is more favorable for heat-sensitive materials, keeping various ingredients without any decomposition, and ensuring product quality.
3. It can adapt to a wide range of viscosity changes, both high and low viscosity materials can be processed, and the material viscosity can be as high as 100,000 centipoise (CP).
4. Changing the rotation direction of the scraper groove can adjust the care time of the material in the evaporator.
5. The inner wall of the tube in the evaporation section is precisely bored and polished, and the surface is not prone to coking and scaling.
6. Convenient operation and easy adjustment of product indicators. Under closed conditions, continuous production can be controlled automatically.
7. The equipment covers a small area, simple structure, convenient maintenance and easy cleaning.
| | | | | | | | | |
| --- | --- | --- | --- | --- | --- | --- | --- | --- |
| Item modelModel | GLGB1 | GLGB2 | GLGB4 | GLGB6 | GLGB8 | GLGB10 | GLGB12 | GLGB15 |
| Heat exchange aream2) | 1 | 2 | 4 | 6 | 8 | 10 | 12 | 15 |
| steam pressure(Mpa) | 0.4 | 0.4 | 0.4 | 0.4 | 0.4 | 0.4 | 0.4 | 0.4 |
| Degree of vacuumKpa) | 70 | 70 | 70 | 70 | 70 | 70 | 70 | 70 |
| Evaporationkg / h) | 150 | 300 | 600 | 900 | 1200 | 1500 | 1800 | 2100 |
| Energy consumptionkg / h) | 165 | 330 | 850 | 1200 | 1600 | 1800 | 2200 | 2500 |
| Motor Power(Kw) | 1.5 | 3 | 5.5 | 7.5 | 7.5 | 11 | 11 | 15 |
| Rotating speed(rpm) | 130 | 130 | 130 | 85 | 85 | 85 | 63 | 63 |
| Equipment height (mm) | 2600 | 4872 | 5640 | 6406 | 6990 | 7320 | 9460 | 10500 |